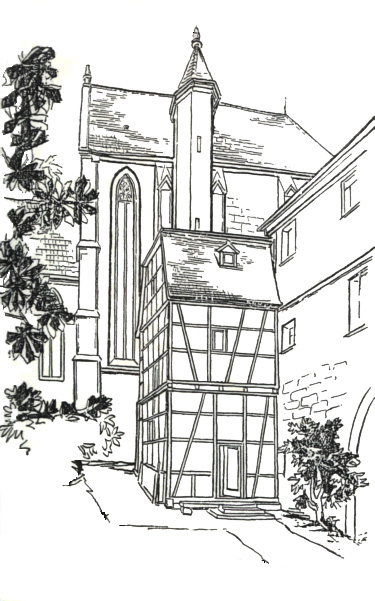 Log In | Register for a User Account
The roots of this branch of the Thoma / Thomæ family can be traced back to shortly after the Reformation, when our forefather became a Lutheran pastor.   Christoph Thomæ who died on June 6, 1634 in Hildburghausen, Sachsen-Hildburghausen, Thuringia, Germany was the first of the lineage and himself a pastor.   His son, Stephen Thomæ, became the Pastor and Adjutant of Sonnefeld.   This noted theologian served the Evangelical Lutheran Church of Sonnefeld for twenty-seven years.   It is this church which is illustrated opposite of this text.
Sonnefeld is the name of the combined villages of Sonnefeld and Hofstädten, Sachsen-Coburg, Thuringia, Germany; and while the church was located in Sonnefeld the family lived in Hofstädten.   For nearly 175 years the village of Hofstädten was "home" to the Thomæ family.   Not all were as famous as Stephen and none became wealthy.   Mostly they were respected citizens who worked at the trade of pottery making.
And it was the pottery craft that Lorenz George Thomae / Thoma brought with him when he immigrated to Boonville, Cooper County, Missouri in 1854. By 1860 he was living in the clapboard covered log house shown at the top of the page.   Here his occupation was needed to fashion the vessels that were purchased for the long wagon caravans heading westward.   But in time all things change.   And so it was with pottery manufacture, as the craft passed before the modern methods of glass manufacture.   Today the descendants of Christoph Thomae follow many avocations and are scattered far beyond the narrow confines of Hofstädten.   But it is to the memory and honor of all our ancestors that this site is dedicated.
I have worked on my family genealogies for over forty years.   And I see my work on many, many web sites and in many other genealogies.   I am fine with that!   It feeds my huge ego.   But please remember I make a lot of typing mistakes, my eyesight is not what it used to be, and I am just misled as anyone else.   So, use the information, you are welcome to it; just don't expect it all to be true.
Sincerely,
Jim
Contact Us

If you have any questions or comments about the information on this site, please contact us. We look forward to hearing from you.